This email was sent by St. George's Regional Disaster Recovery & Outreach Center.
Email not displaying correctly? Click here.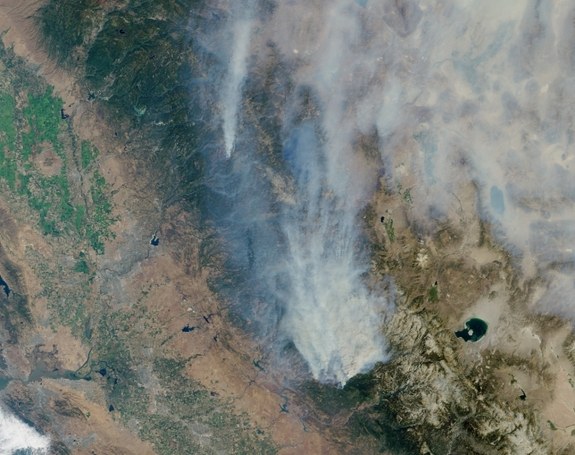 The Rim Fire is visible from space–this photo is from a NASA satellite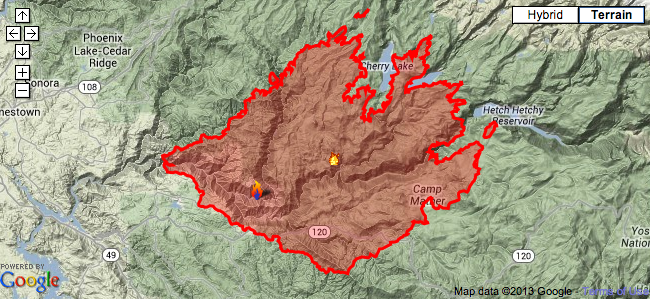 Google Map image shows the extent of the threat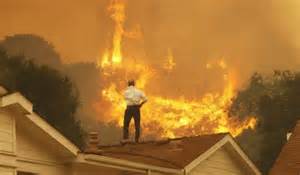 A man watches the massive fire that threatens thousands of homes in California
Dear Friends, 
We've all seen the news stories of the wildfires that have been raging for weeks in California, but it is hard to image the wide swath of impact this fire is having on man and nature.  As of this morning, the Rim Fire is the seventh largest recorded fire in California history and has devastated 92,000 acres of land, including tens of thousands in Yosemite National Park.  Nearly 4,000 firefighters are putting their lives at risk to attack the flames, in addition to park forestry workers who are clearning brush and aiming sprinklers at the landmark giant Sequoia trees, which are also threatened by the blaze.  The fire has destroyed 31 residences and 80 outbuildings as well as a number of vehicles.  Ash from the fire is dropping into the Hetch Hetchy Reservoir, a potential danger to the water supply of 2.6 million San Franciscans a
full 120 miles away.
In addition to the great risk to life and property, this firestorm has threatened the livelihood of many in the community who depend on tourism in Yosemite Park and have lost nearly a month of the tourist season.  There will be much need in these communities in ther days, weeks and months ahead, and Episcopal parishes are already at work to help their neighbors.  Knowing that Episcopal Relief & Development will be there to provide the resources these communities need to recover from the Rim Fire, we can offer financial support to the work of Episcopal Relief & Development so they are ready to live out their mission to help heal a hurting world.  We can also join with our sisters and brothers of the Episcopal churches in these areas in praying for the safety of those who are in the path of this fire, those who fight it, and those
who are suffering financial difficulties because of the blaze.  
And we can remember that no matter where we are, natural disasters can threaten at a moment's notice, and we can be prepared to help when it is our communities that are threatened. Thank you for supporting the efforts of Episcopal Relief & Development to help in times of trouble, and thank you for all you do to prepare your parish to be your communities Shield in the midst of life's storms.
Faithfully,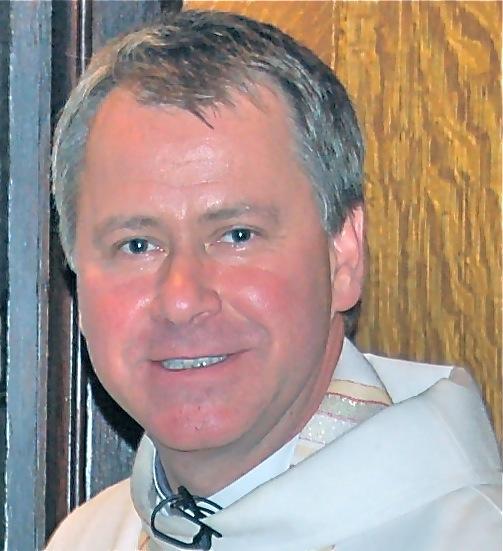 Fr. John Major
Interim Diocesan Representative to
Episcopal Relief & Development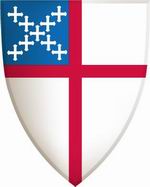 A Shield….
in the midst of life's storms  

Prayer of the Diocese of Bethlehem
Disaster Relief & Community Resiliency Committee
God of love and hope, you have called us to serve you in ministering to those affected by
the storms and trials of this world.  Grant us courage to persevere through the challenges
of this task, grace to bring your healing and hope to the suffering and afflicted, and sincere
and faithful hearts to share the good news that you are always near.  Grant this through your
Son, Jesus Christ, who calms the wind, stills the waves, and brings peace in the midst of storms.
Diocesan Disaster and Community Resiliency Committee
Canon Andrew Gerns            Canon Charles Cesaretti           Rev. Charles Warwick         Rev. Timothy Alleman
Rev. Jane Williams       Rev. Eddie Lopez        Rev. John Major        Janine Ungvarsky
Rt. Rev. Paul V. Marshall, Convener
This email was sent by Diobeth Episcopal Relief and Development at St. George's Regional Disaster Recovery & Outreach Center.408 East Main Street  |  Nanticoke, PA 18634  |  570-335-7875www.episcopalreliefnepa.orgUnsubscribe immediately with SureRemove™
Change Your Email AddressPowered by ChurchPost.com™