This email was sent by St. George's Regional Disaster Recovery & Outreach Center.
Email not displaying correctly? Click here.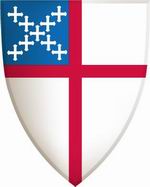 A Shield….
in the midst of life's storms  
Better than fireworks
on the Fourth of July!
July 28, 2014  
Dear Friends,
Today was the first work day for our mission group from Florida and far and wide, and what a day it was!  Going into the day, we were hoping that we might get the wall paper down off the walls of the former nave at St. George's Regional Disaster Recovery & Outreach Center and get the walls sanded.  We got that, and so much more!
In just the first day, the incredible group representing Shepherd of the Hills Episcopal Church in Florida and several missioners from our own diocese not only removed every scrap of wallpaper, they sanded and prepped the walls and got most of the priming done.  But that wasn't all–before the day was out, some areas in the downstairs community room were patched and sanded and repainted.  When they took a break from standing on ladders and scaffolding, some of the group took time to  painstakingly scrape and peel paint from the heating system grate to prepare them for repainting.  Two of the ladies were asked  to put a fresh coat of paint on a hallway and stairwell–they painted the ceiling as well!  When the old organ was in the way of the work, it was disconnected from the wiring and moved.   The pulpit
and lecturn were unbolted and removed to open up the prayer space, making it more accessible physically and visually.   And a new check-in counter on casters was created out of the old dividing walls for the choir area–the carpenter even used the old brackets that bolted the dividers to the floor to brace the corners!  The entire building was bustling with activity from 8:30 am until 4 pm, and filled with a cheerful buzz of people who are really enjoying what they were doing.
The group also found time to begin the day with Morning prayer end the day with a joyful sung "Alleluia!", and, following our custom since this new ministry's earliest days, paused in the middle of the day for Noon Prayer.  It was truly a day full of all the best of faith in action, and for those of us who have labored so long to move this ministry forward, it was like fireworks on the Fourth of July–exciting and awe-inspiring to watch, and makes you look heavenward with a smile on your face and joy and gratitude in your heart. This was even better, though, because as we watched this hard-working and dedicated crew at work, it filled us with great hope for the new thing being born in Nanticoke and our diocese.  Check out the photos below to get just a glimpse of today's fun and hard work.
Thank you to our new and already very dear friends from Florida–Karen, Bette, Art, Bob, Jane, Lynn, Howard, Linda, Jack and Zack. We are also grateful for the presence and hard work of those who joined us from our diocese–Peter Eddins from Hamlin, Sue Ellen Andres and Ed Reis from Jim Thorpe, Fr. Peter Pearson from St. James and St. George in Jermyn, and Marti Callahan, Jake Busch, and Shane Sonday from Trinity West Pittston.  We were also visited by Ladd and Julie Harris, who have connections to both our area and the Florida missioners and stopped by to cheer on the crew.
Tomorrow the focus of the ministry will move to West Pittston, where we'll work to repair a porch badly damaged in the flood more than two and a half years ago, and to prepare Trinity's grounds for a special free community dinner to commemorate the third anniversary of the flood.  Many neighbors are still finding their way to a new normal after the flood, and this dinner will provide a way for us to listen to them, find the still-unmet needs, and let them know that the Episcopal Church is still there for them. 
We can't wait to see what we get done tomorrow and the rest of this week!  You are welcome to join us and we hope you wil come meet the amazing people working so hard to help our region and diocese in ministry to our communities.
Thank you to our missioners and new friends, and to all help the world know that our Episcopal Church is a Shield in the Midst of Life's Storms…
Faithfully,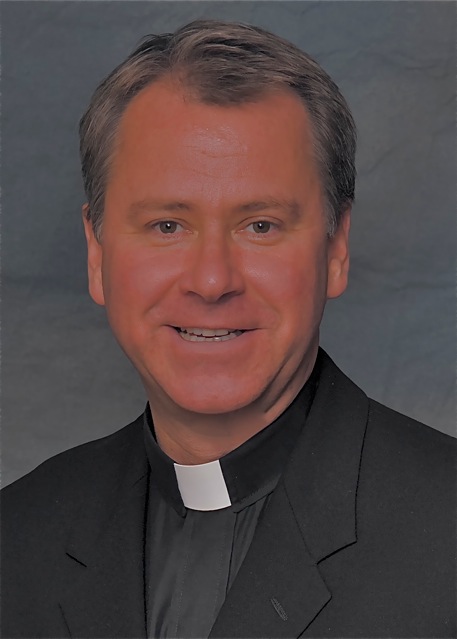 Rev. John C. Major
Interim Representative to Episcopal Relief & Development for the Diocese of Bethlehem
 newsletter for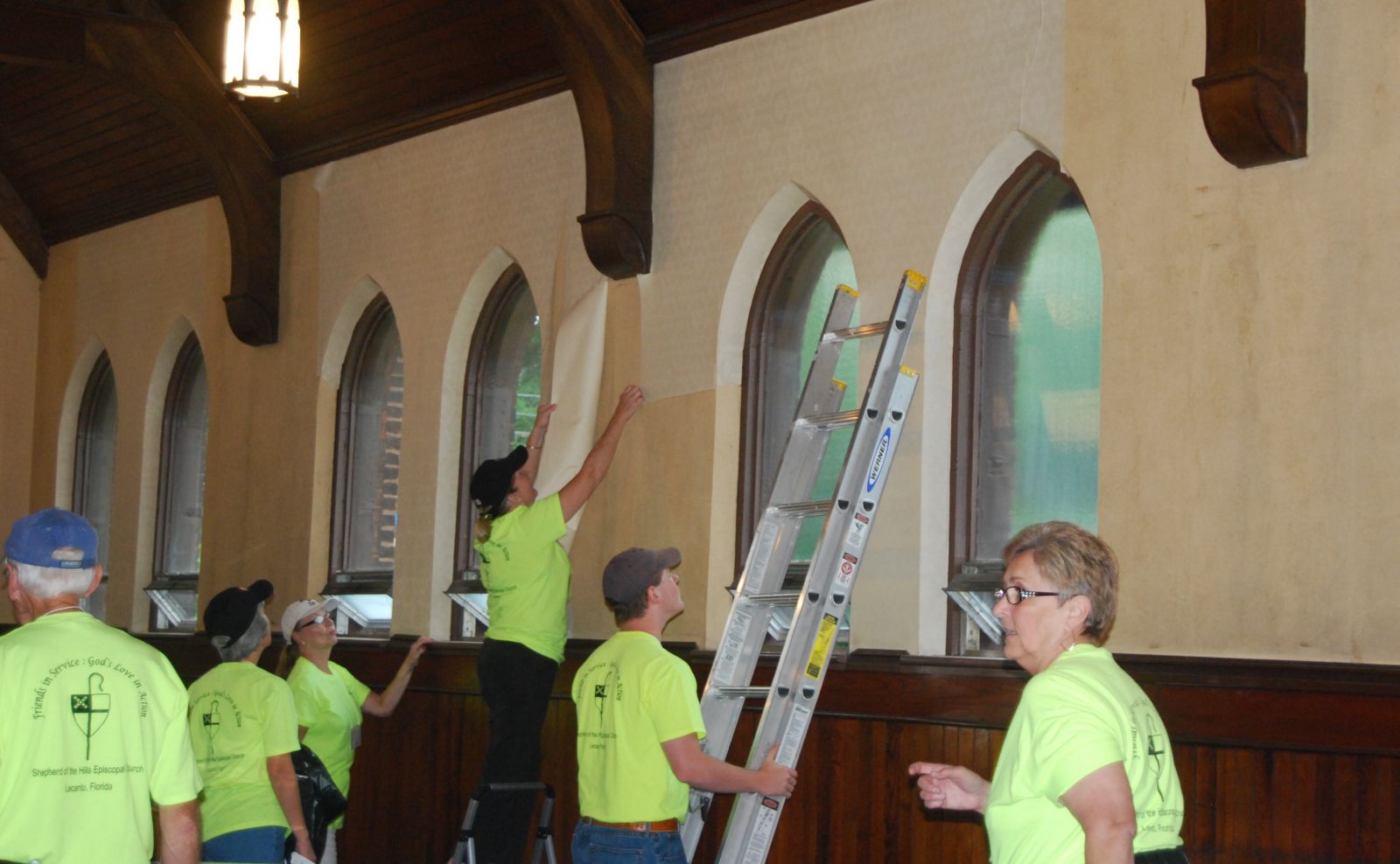 Start of the day–missioners tackle the wall paper on
St. George's Hall wall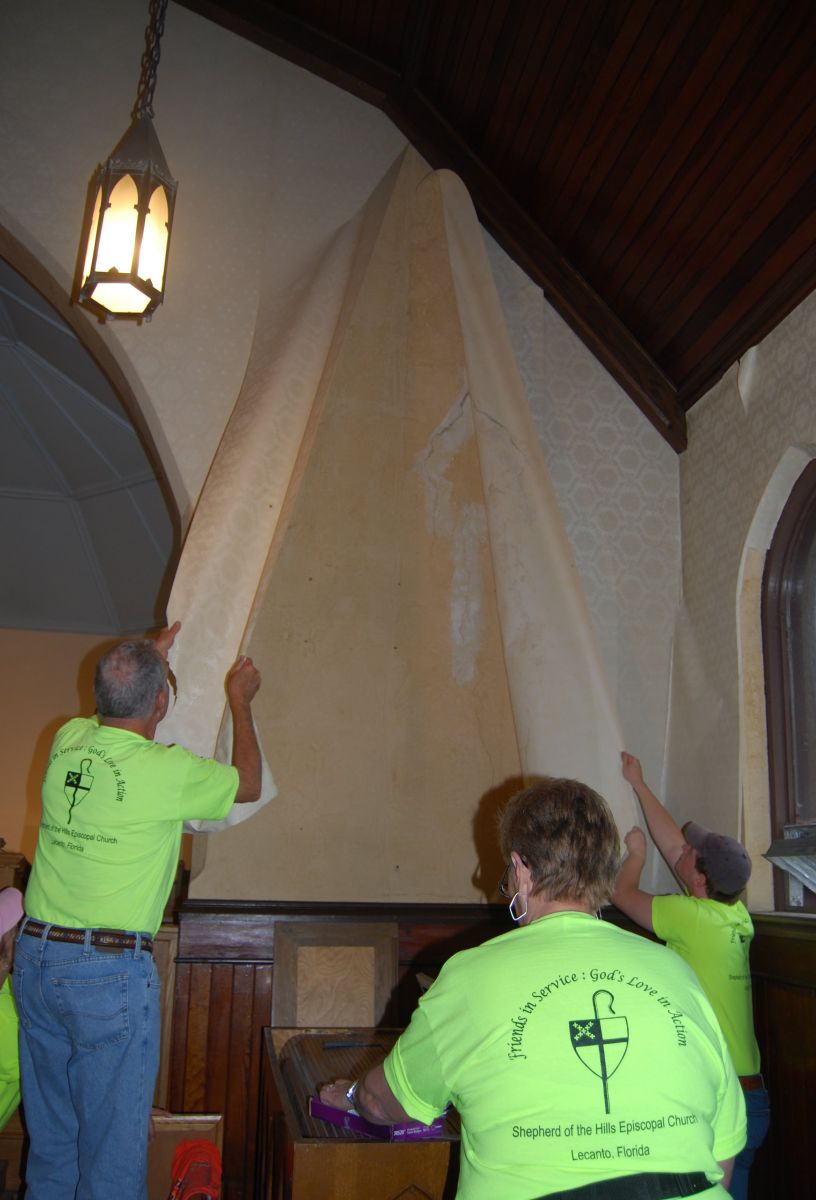 The wallpaper comes down…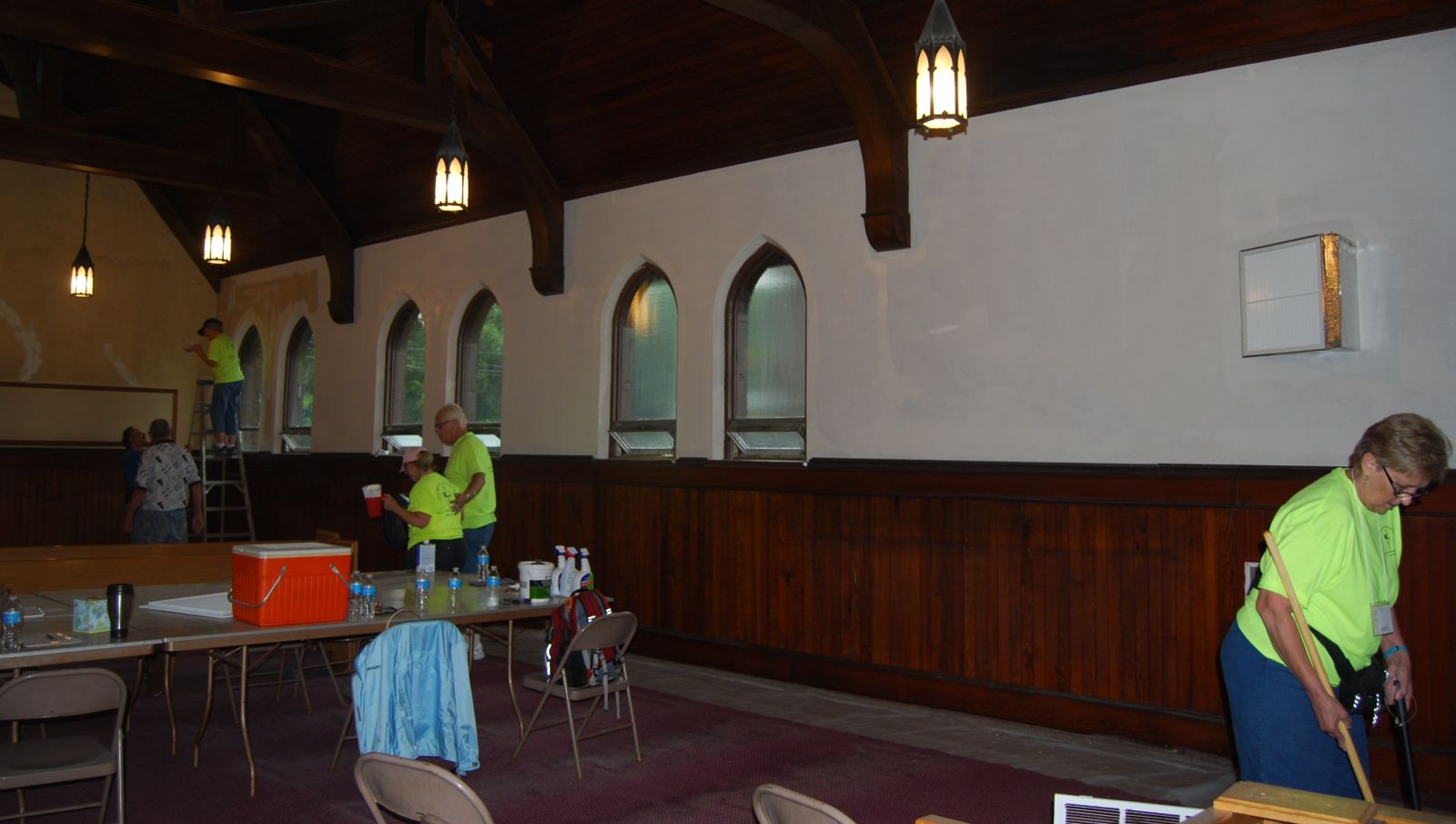 Same wall eight hours later…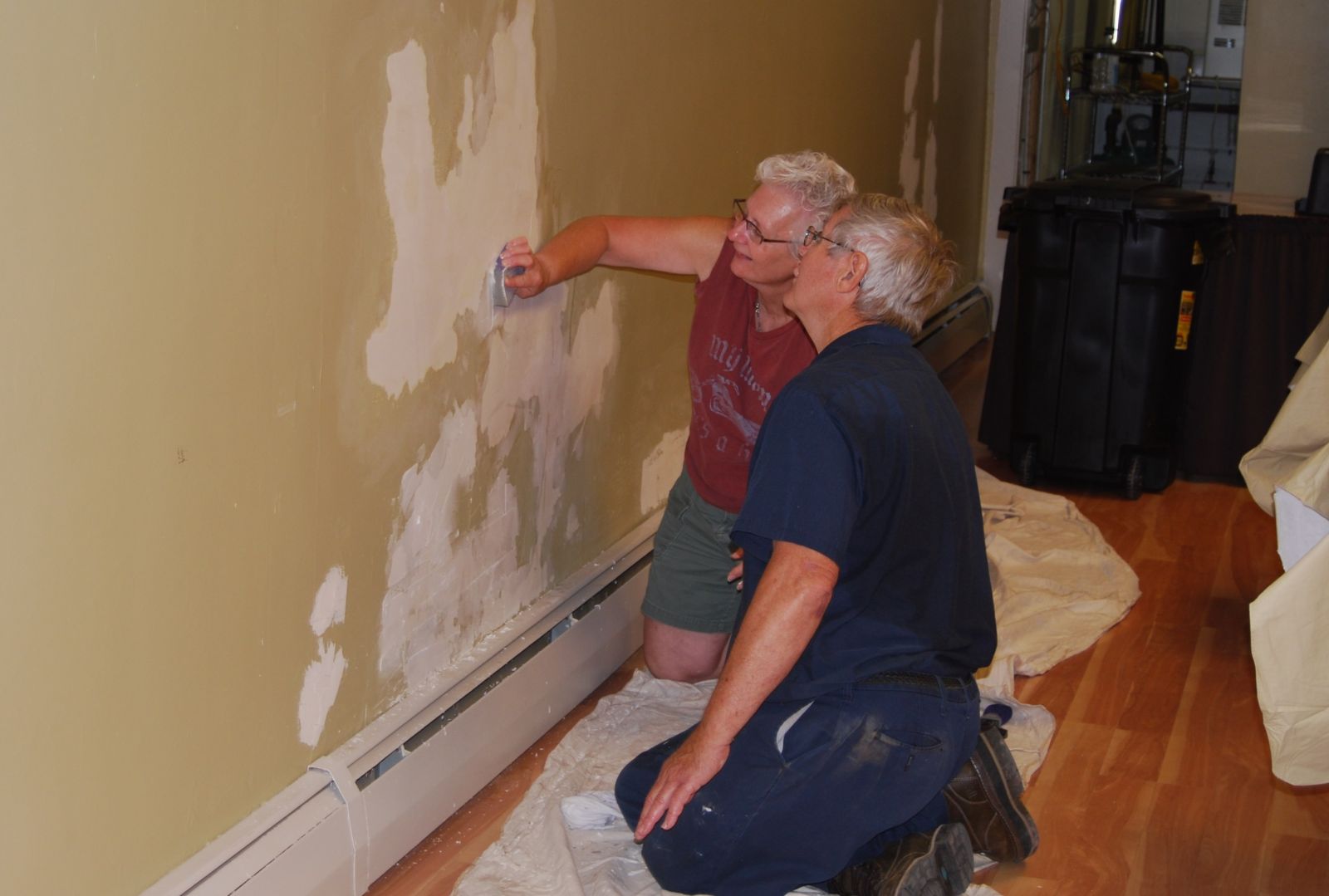 Sanding and painting in All Saints Hall
community room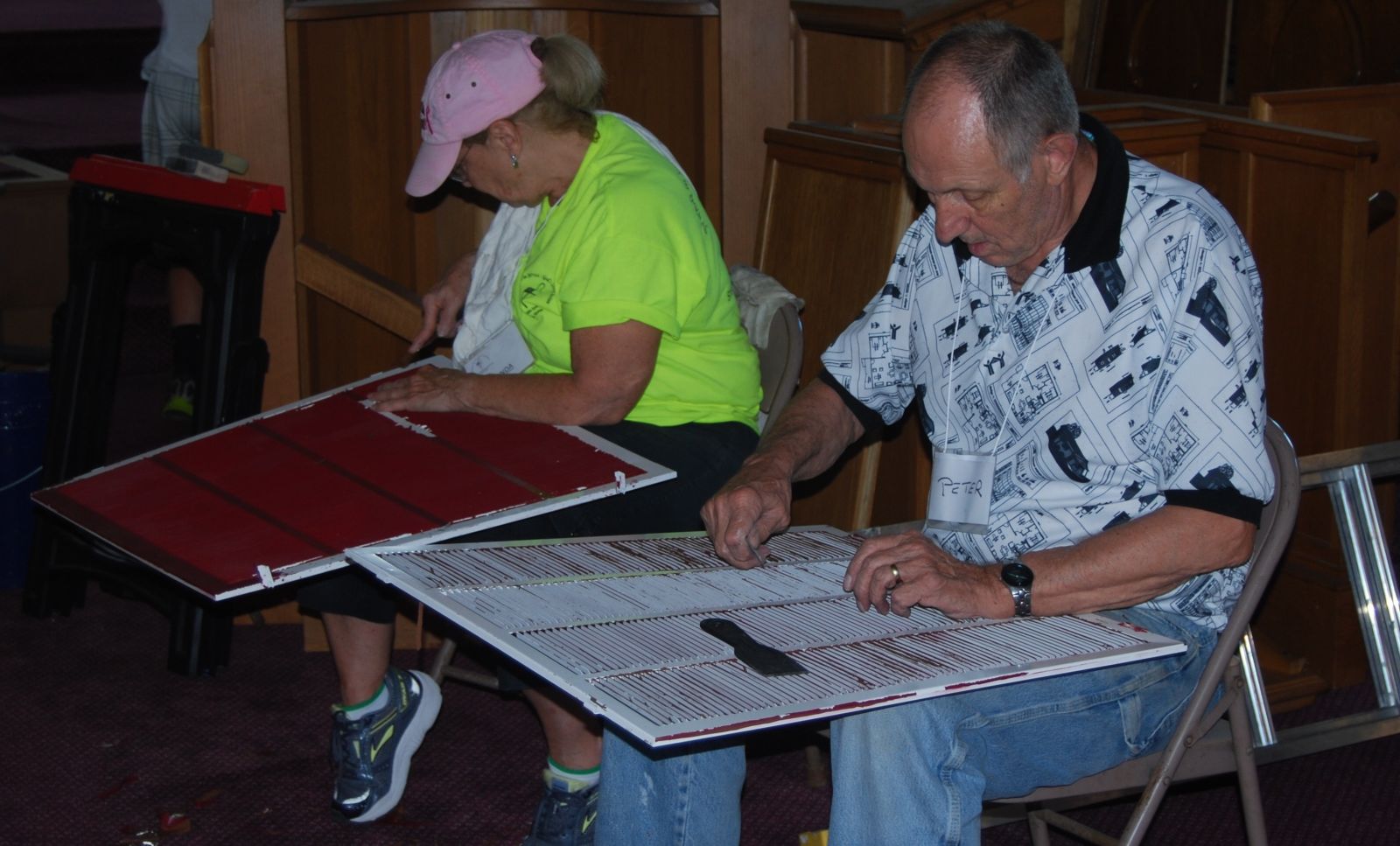 Removing paint from the grates…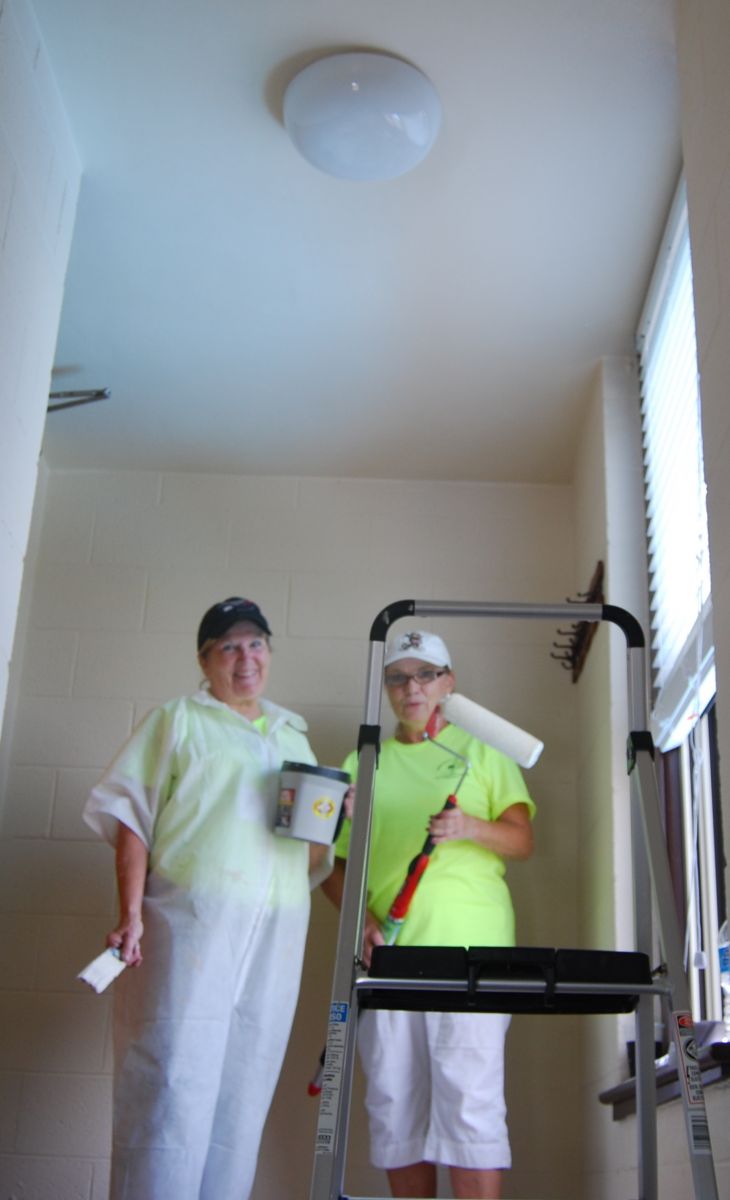 Painting the ceiling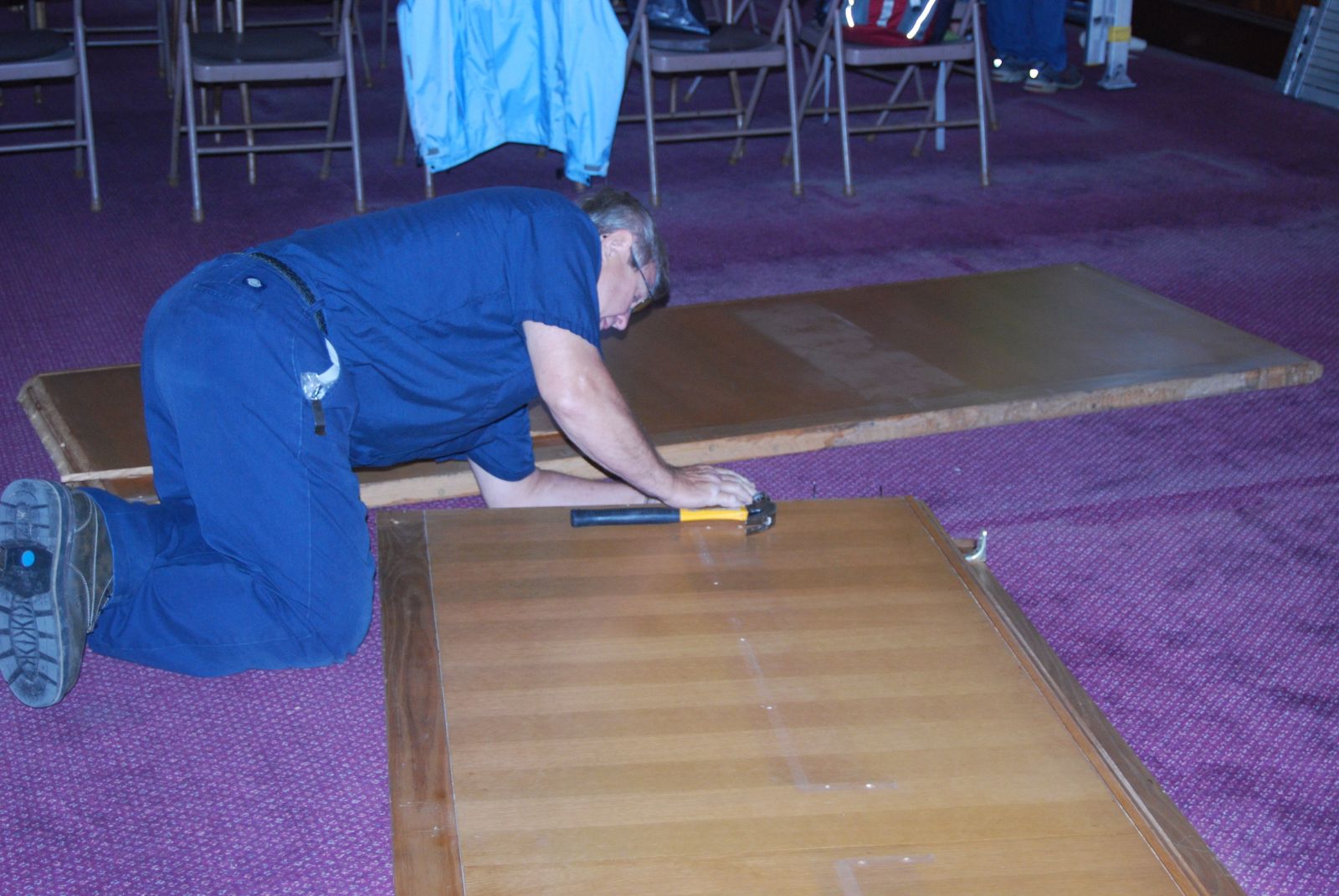 Before–a divider wall…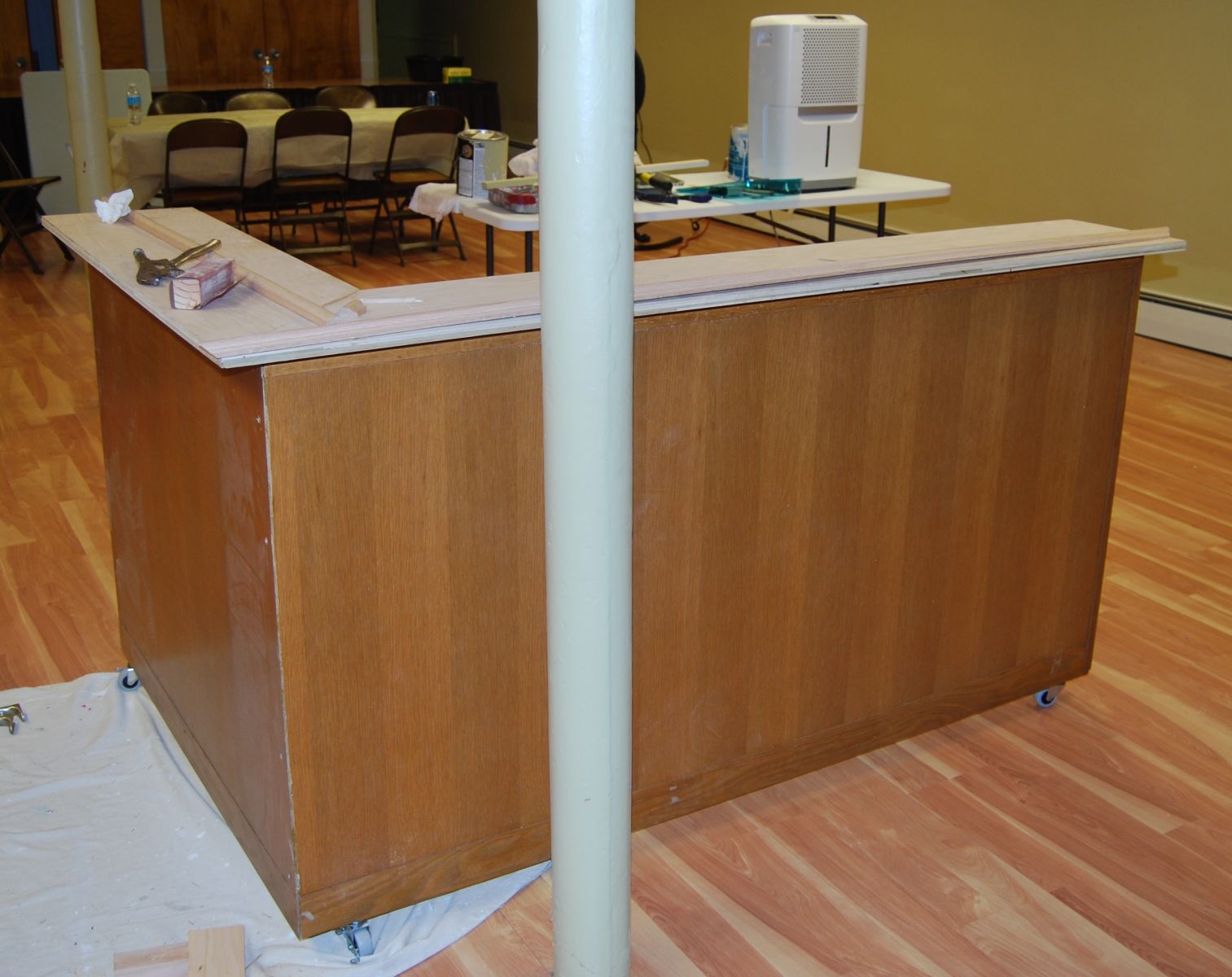 After–a new counter on casters!
Taking down the lecturn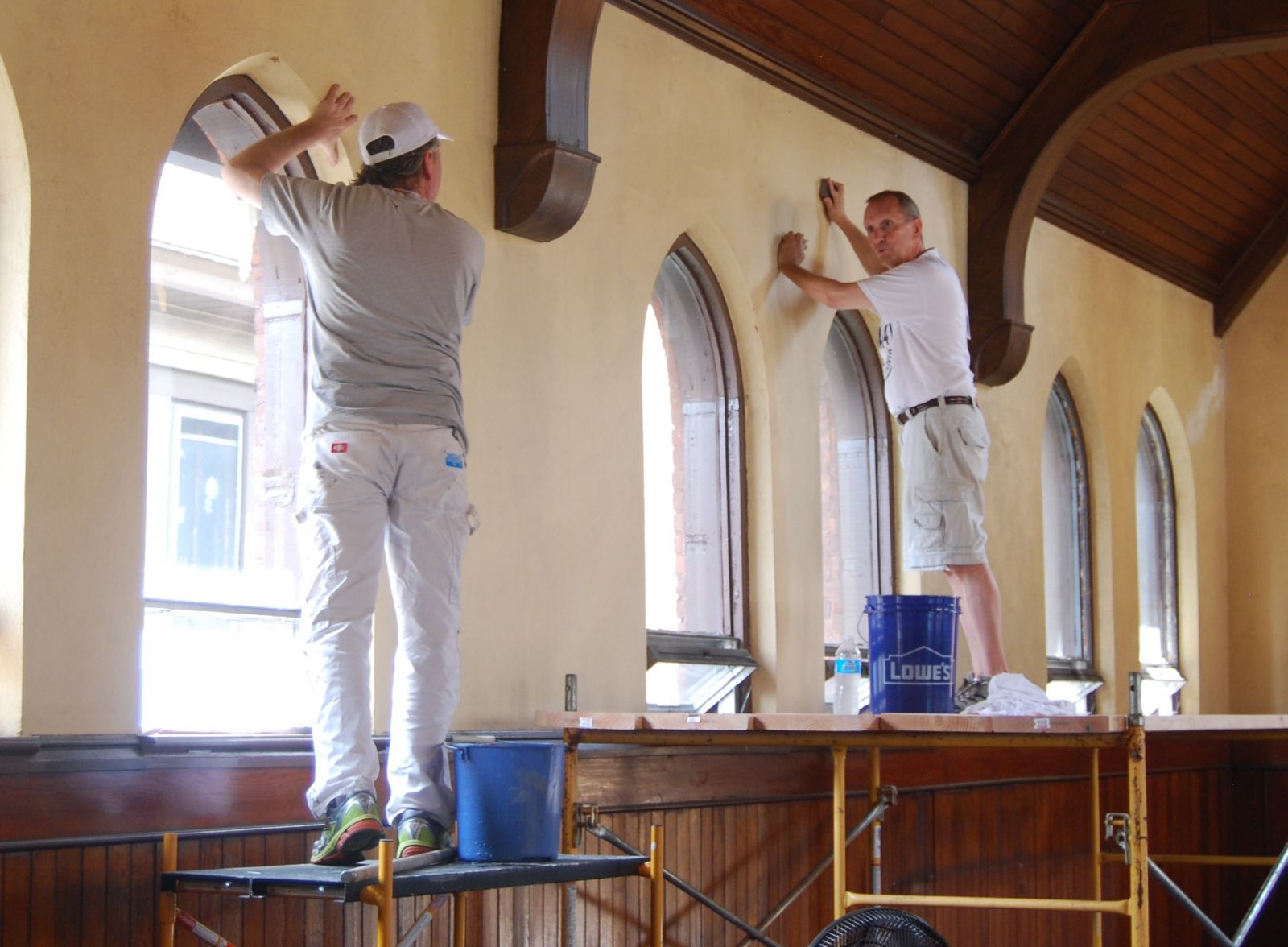 Frs. Major and Pearson reaching new heights…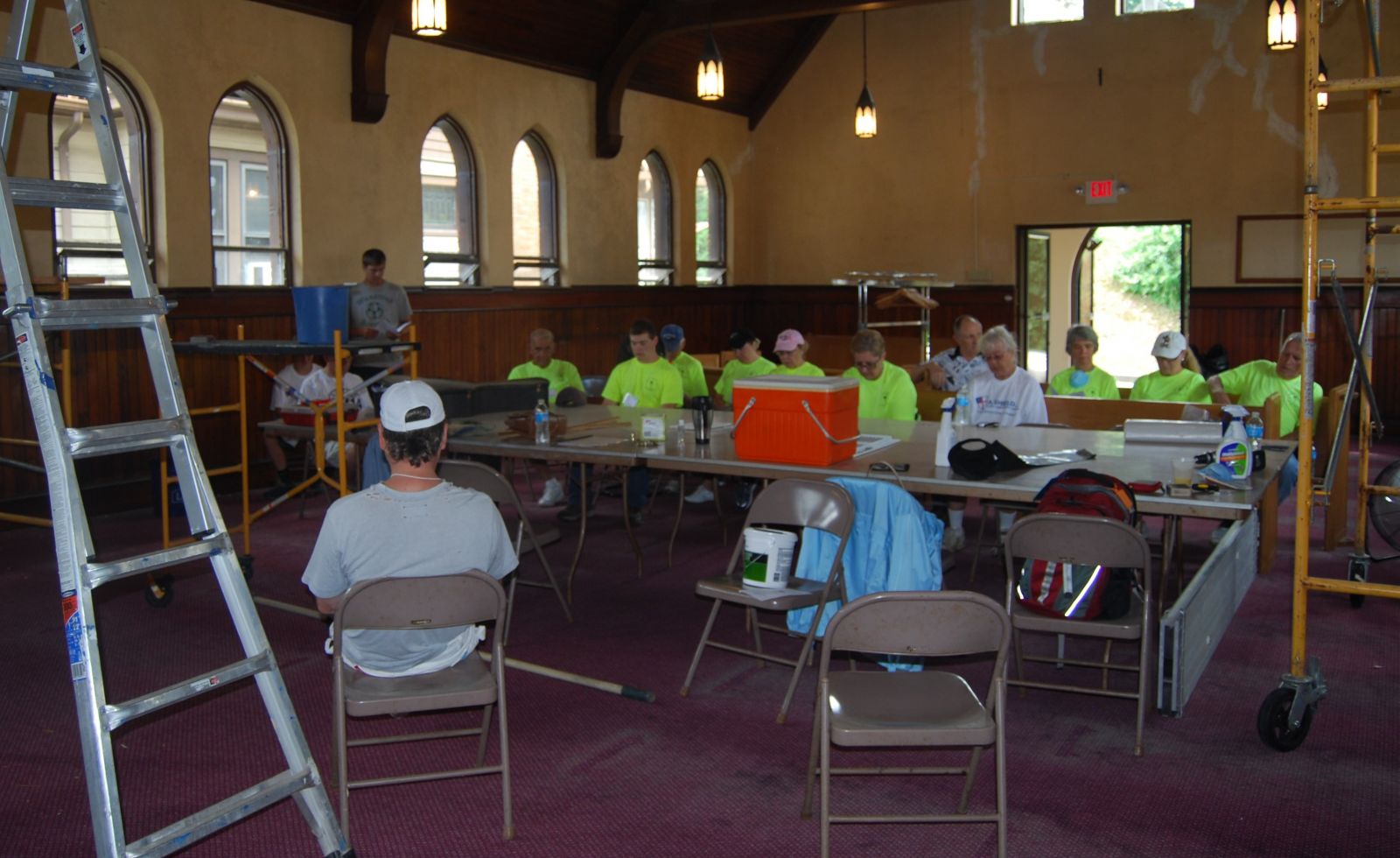 In the midst of work, Noon Prayer time…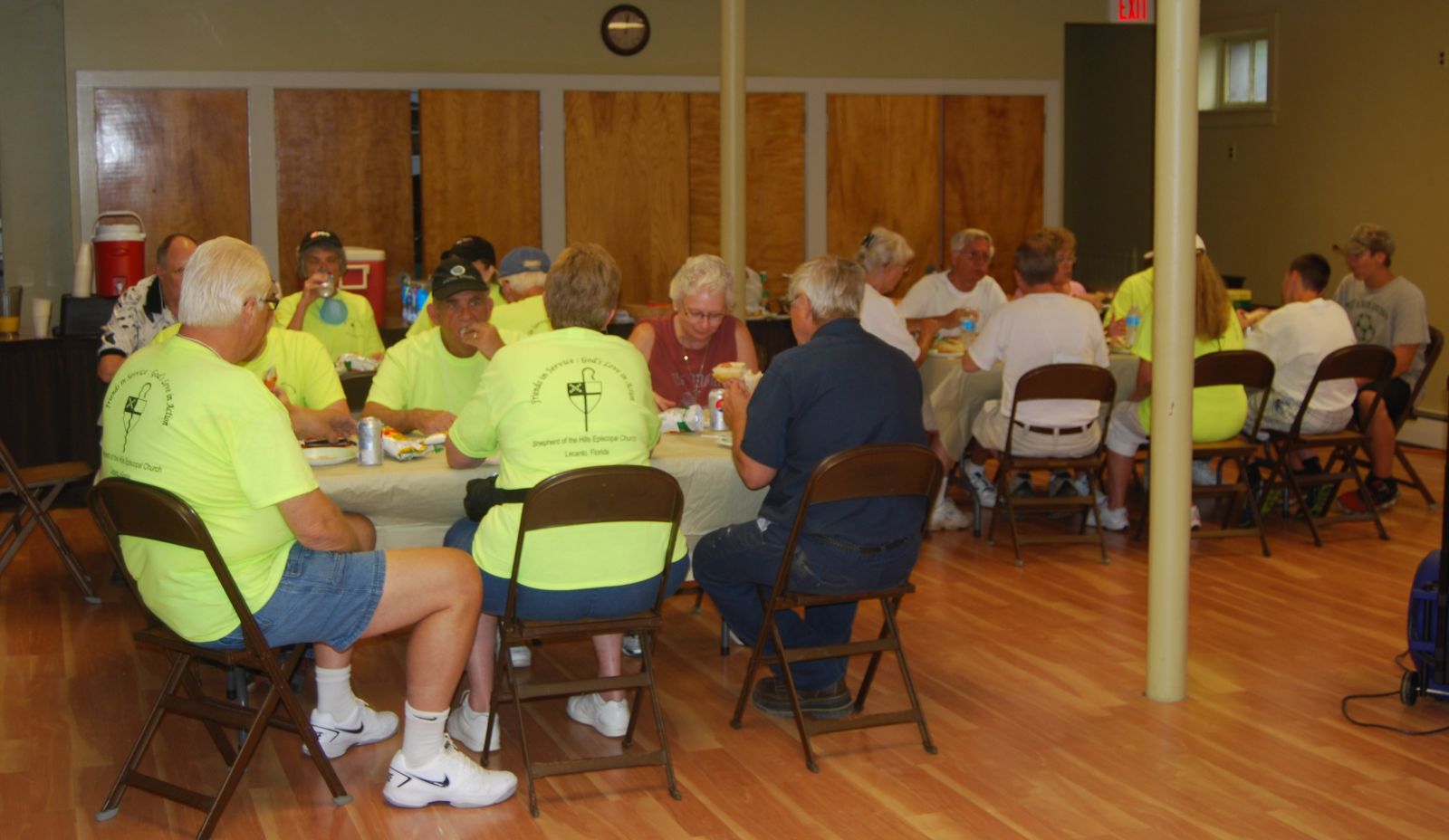 Today, the missioners enjoy lunch…
soon, a soup kitchen to feed those in need…

Contact Us
The Rev. John C. Major
Diocese of Bethlehem Representative
to Episcopal Relief & Development
jmajordiobetherd@hotmail.com

Prayer of the Diocese of Bethlehem
Disaster Relief & Community Resiliency Committee
God of love and hope, you have called us to serve you in ministering to those affected by
the storms and trials of this world.  Grant us courage to persevere through the challenges
of this task, grace to bring your healing and hope to the suffering and afflicted, and sincere
and faithful hearts to share the good news that you are always near.  Grant this through your
Son, Jesus Christ, who calms the wind, stills the waves, and brings peace in the midst of storms.
Diocesan Disaster and Community Resiliency Committee
Canon Andrew Gerns            Canon Charles Cesaretti           Rev. Charles Warwick         Rev. Timothy Alleman
Rev. Jane Williams       Rev. Eddie Lopez        Rev. John Major        Janine Ungvarsky
***********
Episcopal Relief & Development is the international relief and development agency of the Episcopal Church and an independent 501(c)(3) organization. The agency takes its mandate from Jesus' words found in Matthew 25. Its programs work towards achieving the Millennium Development Goals. Episcopal Relief & Development works closely with the worldwide Church and ecumenical partners to help rebuild after disasters and to empower local communities to find lasting solutions that fight poverty, hunger and disease, including HIV/AIDS and malaria.
This email was sent by Diobeth Episcopal Relief and Development at St. George's Regional Disaster Recovery & Outreach Center.408 East Main Street  |  Nanticoke, PA 18634  |  570-335-7875www.episcopalreliefnepa.orgUnsubscribe immediately with SureRemove™
Change Your Email AddressPowered by ChurchPost.com™