November 20, 2012
Dear Friends,
Episcopal News Service recently published a story about how local churches in New York and New Jersey have responded to the devastation faced by their neighbors in the aftermath of the superstorm. The tremendous effort gave people a new perspective on churches and prompted one rector to say, "This is the church at its best."
The story, which can be read here, gives life to our vision for what the churches of this region can do when disaster strikes. St. George's Regional Disaster Recovery & Outreach Center will provide the place and the resources for our parish and the other regional parishes to respond, even if some of our churches and homes are affected.  The parishes in the story also serve as wonderful examples of Trinity's mission statement, "living and building holy community."
As you read the story and give thanks with us for the work being done by our sisters and brothers in the storm ravaged areas, please give some thought to ways to help our region be prepared when it is our turn to respond as the churches in New Jersey and New York are now. The list below suggests some ways you can help St. George's to be ready to serve as a rallying point for our region's response to future disasters, or email jmajordiobetherd@hotmail.com for more information about the center and projects underway.
And as we enter this season of thanksgiving and sharing of gifts, please remember those who are counting on our National Church for support of their efforts to help their communities. Please consider making a donation to Episcopal Relief & Development, and help others see our faith in action and God's church at its very best.
Faithfully,
Fr. John Major
Diocesan Representative to Episcopal Relief & Development
Janine Ungvarsky
Diocesan Program Manager for Episcopal Relief & Development
St. George's
Regional Disaster Recovery & Outreach Center
A SHIELD in the midst of life's storms…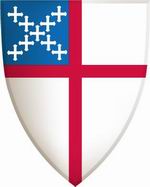 A cooperative effort of the people of the regional churches of the
Episcopal Diocese of Bethlehem
Ways to put you faith to work:
-Donate or organize a collection of disaster response supplies such as:
Cleaning supplies– buckets, mops, brooms, sponges, gloves (work gloves, rubber gloves), etc.

Sample size toiletries and personal care items

Gift cards to "big box stores" (Lowe's, Home Depot, Walmart, Target, Kmart)
-Volunteer for the soup kitchen.  Cooking, serving and clean up help needed
-Volunteer for ongoing maintenance and improvement projects
-Make a donation towards improving services at the center (donations towards cots ($75 each), new community room flooring ($2.79/square foot), installation of shower rooms
Email jmajordiobetherd@hotmail.com for more information, to volunteer or make a donation.