This email was sent by St. George's Regional Disaster Recovery & Outreach Center.
Email not displaying correctly? Click here.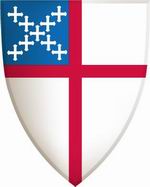 A Shield….
in the midst of life's storms  
November 18, 2013
Dear Friends,
Yesterday we once again found ourselves overwhelmed with reports of devastation, destruction and loss as a huge storm system attacked a large swath of the United States. More than 60 reported tornadoes touched down in 10 Midwestern states and piles of rubble are all that remain of untold numbers of homes and businesses.
We see this, our hearts break and we all want to do something to help.  Please take a moment to read this article, "Help that's helpful," from a woman affected by the 2012 Oklahoma tornados.  It explains the best, most practical ways to help in the aftermath of a disaster.  Though our good-hearted inclination is to empty our closets and cupboards and send clothing, food and household goods, the author notes that sending such "stuff" isn't really as helpful as we might think. Our own experience in the floods of 2011 bear out this article's recommendation that contributions of cash and gift cards are far more helpful because they are easier to collect and distribute and
allow those we desire to help to get what they need the most. 
Should you feel moved to make a contribution to help, I urge you to consider Episcopal Relief & Development's US Disaster Fund.  Episcopal Relief & Development has been recognized by Consumer Reports and others for its excellent track record of transparency and for putting more than 90 cents of every dollar donated directly to relief efforts, and while there are other funds to do other good work around the world, the US Disaster Fund will benefit those affected by these storms.  In addition, from now until December 6, every dollar you donate will be doubled, thanks to a generous matching grant opportunity.   If you are able, please take
advantage of this wonderful chance to have your money do even more to help support our Church's efforts to "be there" for a hurting world. Just click on the "Together we're there" link at the right to go to the Episcopal Relief & Development page to donate.
And remembering that none of us are immune to the devastating effects of nature, please take steps to protect yourself and your loved ones and to prepare your church to respond when bad weather or disasters strike.  At its peak, more than 109 million people in 26 states were at some risk from this one storm system we just experienced, and some experts cited by the media have noted that knowing what to do and having pre-planned where they would go and having resources ready helped protect many from injury and death.  Check out the resources in the red bar to the left, and if you haven't heard about disaster preparedness efforts at your church, ask your parish leadership what plans they have in place.  As a result of a resolution passed at the 2012 convention, all parishes should now be preparing their plans for submission by the end of the year, and your parish can almost certainly use your help to make that happen.
Finally, thank you to all those who are keeping those affected by the typhoon, the tornadoes, and all the storms of life in prayer.  I'd especially like to thank St. Alban's Church for their witness to the need to pray and help those suffering from nature's wrath, as shown in this photo.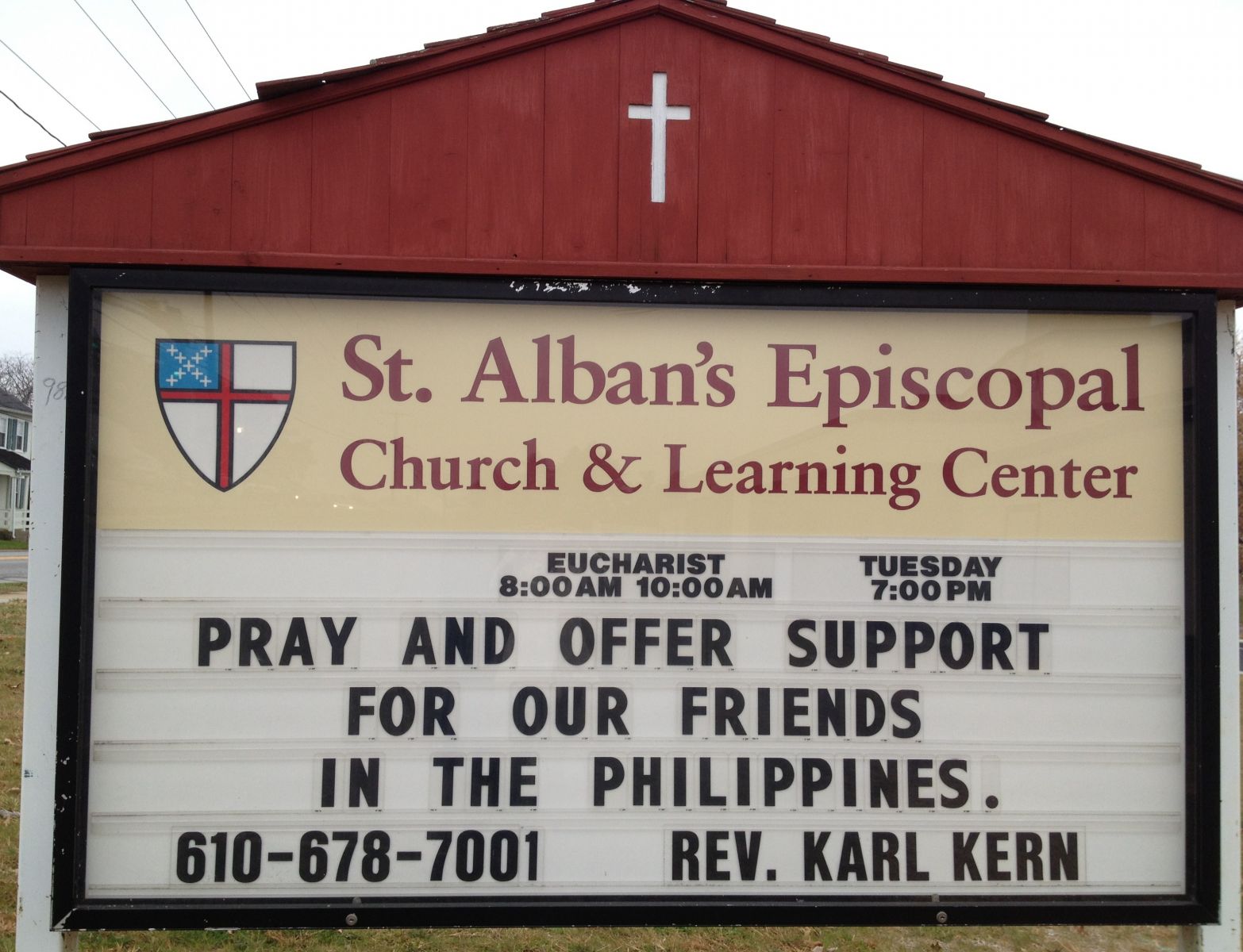 Please keep our sisters and brothers in the Philippines and the Midwest as well as all those affected by all the storms of life as well as the efforts of your Diocesan Disaster Relief & Community Resiliency Committee, Episcopal Relief & Development, and all those who work to help those affected by disaster in your prayers, perhaps using the committee's prayer that you will find below.
Thank you for all you do to help our neighbors know that the Episcopal Church is their Shield in the Midst of Life's Storms.
Faithfully,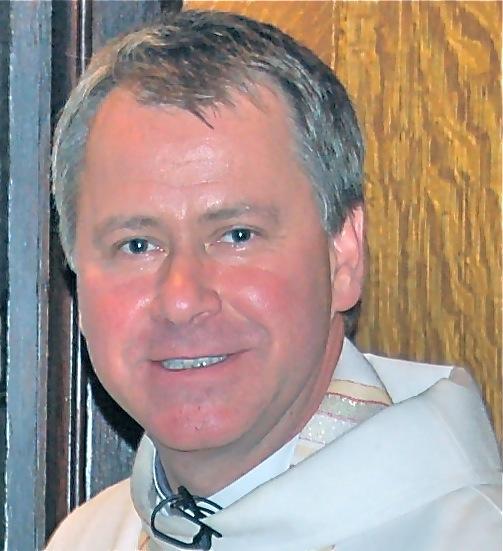 Rev. John C. Major
Interim Representative to Episcopal Relief & Development for the Diocese of Bethlehem   
The May issue of Vestry Papers included a number of articles about Episcopal responses to disasters in their communities.  With the Midwest tornadoes in recent memory and hurricane season upon us, these articles can help generate thoughtful conversation and plans for how your faith community will respond in times of disaster (click here for link to Vestry Papers).
Where We Stand….
in meeting the requirements of Diocesan Convention Resolution requiring all parishes to have a disaster plan on file by the end of 2013:
Parishes with filed plans: 2
Parishes trained with plans underway: 24
Parishes yet to be trained: 32
Resources
Episcopal Relief & Development
Episcopal Relief NEPA
Parish Disaster Preparedness
Personal/Family Preparedness
(including Go-Kit recommendations)
FEMA Preparedness Info
Red Cross Preparedness Info
ASPCA Preparedness Info for Pets
How to Help After a Disaster
Click logo to donate to Diocese of Bethlehem Disaster Relief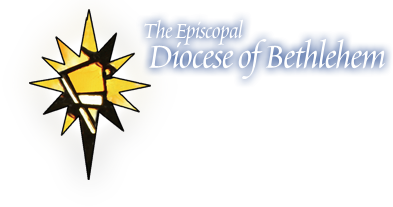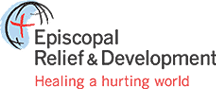 Contact Us
The Rev. John C. Major
Interim Representative
to Episcopal Relief & Development
Diocese of Bethlehem
jmajordioebetherd@hotmail.com


Prayer of the Diocese of Bethlehem
Disaster Relief & Community Resiliency Committee
God of love and hope, you have called us to serve you in ministering to those affected by
the storms and trials of this world.  Grant us courage to persevere through the challenges
of this task, grace to bring your healing and hope to the suffering and afflicted, and sincere
and faithful hearts to share the good news that you are always near.  Grant this through your
Son, Jesus Christ, who calms the wind, stills the waves, and brings peace in the midst of storms.
Diocesan Disaster and Community Resiliency Committee
Canon Andrew Gerns            Canon Charles Cesaretti           Rev. Charles Warwick         Rev. Timothy Alleman
Rev. Jane Williams       Rev. Eddie Lopez        Rev. John Major        Janine Ungvarsky
Rt. Rev. Paul V. Marshall, Convener
This email was sent by Diobeth Episcopal Relief and Development at St. George's Regional Disaster Recovery & Outreach Center.408 East Main Street  |  Nanticoke, PA 18634  |  570-335-7875www.episcopalreliefnepa.orgUnsubscribe immediately with SureRemove™
Change Your Email AddressPowered by ChurchPost.com™